Ok, a few things to go over today. First off, I'm not quite done with the internal skinner yet. I've added all the primary settings, but there are still a few new settings to add. I should be done within a day or so, but it's mostly a "this is boring so I don't want to do it at all" sort of deal so I can work on other stuff at the same time.
There is a new feature I'm adding this go around that I think got lost after the golden age of dos front-ends passed. ArcadeOS had (has) this great feature where you could update roms or the fe via a floppy disc. Because emulator settings, rom collections and front-ends have become increasingly complex, this feature was pretty much ignored by everyone when we switched to windows. Well not anymore! Dk is going to be able to auto-update itself, your emulators, or virtually anything installed on your cabinet.
The process is fairly simple:
1. Get a removable drive (Includes floppies, cdrws, flash drives portable hdds ect..) And rename the volume to match the "upgrade" entry in the frontend.ini ("Upgrade" by default.) or vice-versa.
2. Make a folder called "dk" and extract the new copy of dk to that folder (or if you are just changing settings, simply add the files you want to change).
3. Configure the extracted files to your heart's content.
4. Anything other than dk you wish to add needs to have it's folder hierarchy replicated and the new files put where they belong on the cabinet's drive. For example, if you wanted to add roms to "c:\mame\roms" on your cabinet you would make a "c" folder on your removable media with a "mame" folder inside with a "roms" folder inside of that and place your roms in the inner-most folder.
5. Insert the drive/disc/whatever and bootup dk. It'll give you an "upgrading" message, copy the files, and restart itself if needed.
I understand that in this modern world of virtual desktops and home networks that this isn't really necessary anymore but I thought it would be convienant and it hasn't been particularly difficult to add.
Finally the silly stuff.....
Sometimes you have a great idea for a skin. Sometimes it turns out well and sometimes it doesn't. You can decide on this one.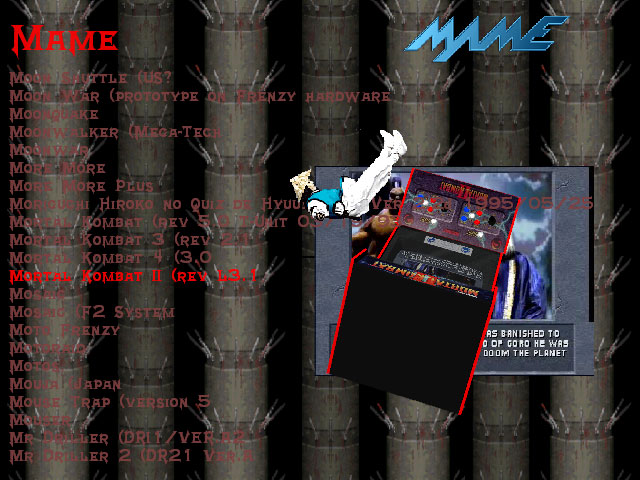 Confused? Well here's the story. Shang Tsung has been uppercutted off the pit and he, along with a arcade cabinet (changes based on game) and pretty much the whole skin are falling to their deaths in what appears to be a bottom-less pit, with shang randomly changing into various fighters as he falls. I wanted to post a video, but fraps refuses to capture on account of the dual viewports (3d cabinet and the rest) and the video preivew playing both on the cabinet and the snapshot area. The skin is nowhere near complete as I just whipped it up to test high-speed background scrolling (those pit columns really fly!). It's so fun though that I'll probably release it anyway, in hopes that someone will finish it and give it the polish it deserves.
Back
Next