Just before the 360 was released with it's blade menu I had a working beta of dk with the exact same idea. Way to steal my thunder m$!!!

Anyway, my blade, like their's pops up regardless of where you are in dk with the press of a button. The blade allows you to navigate to any of the lists in dk, with a image preview shown to the right incase you've forgotten the title of the list. It looks something like this: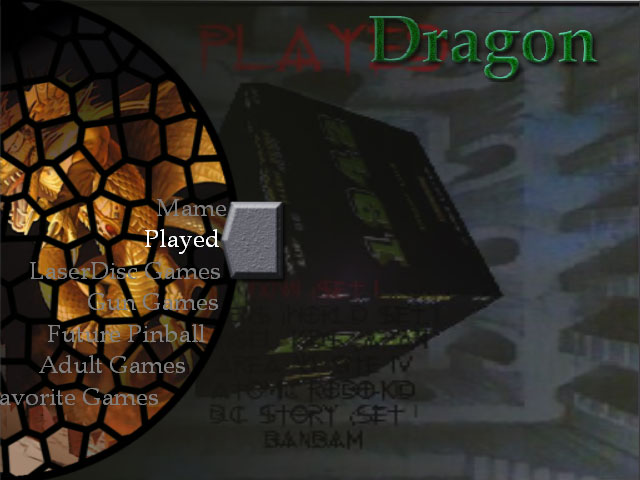 As of now, when you enter the menu the skin is swapped out, which causes a noticable delay. I've decided to instead incorporate this into the current skin, which will allow for instant display and deployment. It's not the most original idea in the world, but it's something that a lot of fe's are severely lacking.. namely a quick way out of where you currently are.
While we are on the subject, let's talk about how dk's list structure has evolved since the last public beta. Check out this screen shot: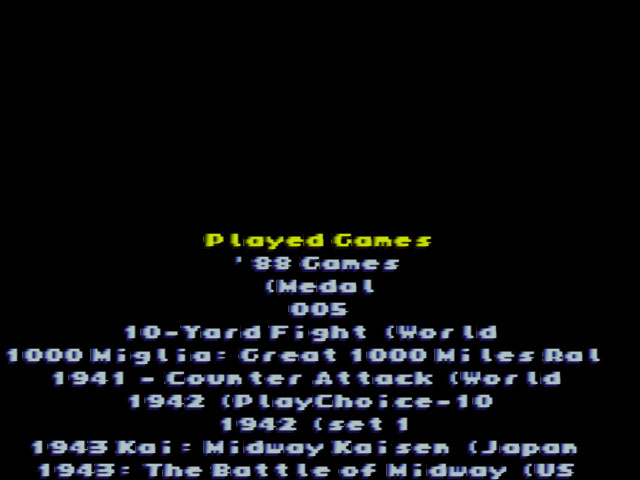 Hmm, I don't remember a mame game named "played games"... We'll it's actually an example of two new list features. First off, dk now allows shortcuts to other lists to be added to any gamelist. This means you can do all sorts of crazy stuff with directory structures now, like replicating the before-mentioned menu blade with a "master list," making shortcuts to toggle clones on and off, having a catlist-based hierarchy of sub-linking setup so you can filter as you navigate or whatever you can think of! Maybe I should show you the inner-workings (which thanks to a utility I'm working on you'll hopefully never have to deal with). Here's the vd entry for the above gamelist:
[path]
logo=Mame.png
caption=Mame
skin=default
dynamic=0
hidden=0
useclones=0
searchstrings:-1=1=&&&& Played Games;5=MAME;0=pacman
filters:6=*mature*;9=*Working No*;6=BIOS;9=*Status Prelimenary*
[/path]
Longtime dk users will find most of this familiar, but there are some important new additions. The logo entry is nothing new, it determines which logo the logo element in a skin will display (actually the logo element can now display other stuff as well, but that's a discussion for another time). Caption, again is nothing new and also quite obvious, it'll be what the list is called in the menu blade and the path caption of the skin. Dynamic... now here's where it gets fun. Before all lists were made at once and they didn't change. Due to the new bookkeeping options (I'll explain those in a sec) this is no longer acceptable. Turning on the dynamic switch has dk filter together a list on-the-fly as you navigate to it. The speed is actually quite decent. While a huge list like every single mame game will cause a slightly noticable delay, most of your special-case lists are going to load instantly. Also, dynamic lists won't be created when you re-generate the master gamelist, which will speed up that process. Hidden is also new and was added as a companion for all of the new list-linking you can do. It became obvious during testing that the traditional list changing method (next and prev list keys) wouldn't cut it if you had several lists caused by a catlist hierarchy or what have you. The solution was to "hide" all of these extra sub-lists from the list collection. When you make a list hidden, it won't show up in the menu-blade and you won't be able to navigate to it unless you use a shortcut link. So for a hierarchy of all mame's cats, you'd make the primary list normal ("Mame") and all the sub-lists (Driving, Platformers, ect..) hidden. In the primary list, you'd link to all the sub-lists. Of course that's all optional, you can make them normal lists if you want. It's all part of the new, more flexible, list system.
Of course clones is pretty obvious and nothing new as are the last two. But check out this entry:
-1=1=&&&& Played Games
This is how we link to other lists. The "-1" tells dk we are searching for a list, in this case the list is list #1 and we want to call the shortcut "Played Games" (The &&&& is just a magic tag to ensure the entry gets added to the top of the list). We could do this other ways as well, like link to the List's caption, the "next list" or what have you. I'll go into more detail as the syntax is finalized and I get the list-builder up and running, but it's really quite useful.
Now for the second part. How exactly does dk make a list of played games? Via the new bookkeeping features of course! Dk now monitors your play habits, recording which games you play, how often you played them, how many times.. ect all to a nifty ini file which the list system can use, in conjunction with special tags, to make lists.
Here is the vd entry for the Played Games list:
[path]
logo=MAME
caption=Played
skin=hell
dynamic=1
hidden=1
useclones=1
searchstrings:-2=mrp
filters:
[/path]
Notice that the search sting this time is "-2=mrp." The "-2" tells dk it needs to search the bookkeeping and "mrp" is a magic tag for the 25 most recently played games. There are other magic tags in bookeeping like the longest played, if it's been played at all, ect... And of course these magically created lists can be filtered off just like any normal list. This takes building a "favorites" list to a whole new level as, with a bit of adjustment you can let dk automatically determine which games you like the most and automatically fill a list with them!
The new list features are really the crowning feature of the release as I've always said that a goodbackbone is far more important than any graphical features. (I've still got a few of those to show, don't worry)
Anyway, raster fonts are pretty much working atm, so I'm now moving on to tweaking the above features for optimum speed. As always, I'll keep you posted.
Next