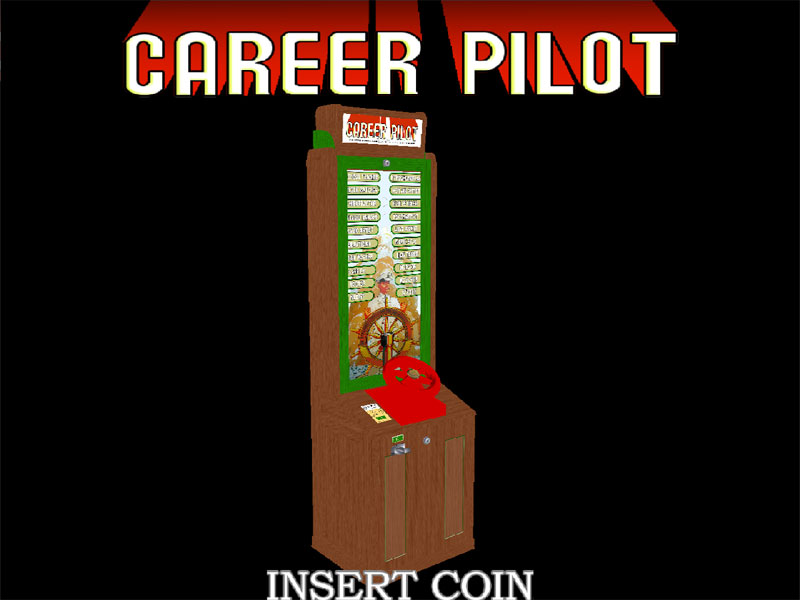 Version: 1.0
System Requirements: Vb6 Runtime Files, DirectX 8 or higher with compliant video card.
Status: Permenant Hiatus
Click to Download

Downloaded times
(Warning, this download is HUGE! 70+mb)
Project History:
Career Pilot was a "love tester" released by International Mutoscope Corp. In 1938 as a "clone" of love pilot. After Championship Fast Draw, this was to be my next simulation. The thing is, I never got around to releasing it. If I recall correctly I had trouble converting the model to w3d for 3d arcade, and that was what halted development. Regardless it is fully playable so I'm releasing it now.
Gameplay:
There isn't much gameplay to this title. Basically you insert a coin, press start and then use the mouse or keyboard to "steer" the wheel. After a second or two the machine will stop on your fortune. Something of note though is that this program actually supports multiple models, including "love pilot". In the models folder you'll see some folders, with each one representing a cabinet. Launch the exe with one of these folders as the "rom" name from the command line to load them. They aren't complete though and thus why I don't advertise this feature.
Simulation Accuracy:
Physically career pilot is spot-on, Love pilot needs some work and the alternate for career pilot needs work. Gameplay is similar to the real machine, but I had to guess on the timing and sounds.
Project Status:
For now it is finished. If I ever get some video of the gameplay of the original machine I will go back and modify the code accordingly. .
Developed By:
Howard Casto